Commercial & Residential Exterior Renovations
Ask us about our Active Military/Veteran Discount.

Why choose us
We Are Google Guaranteed
This means that we have taken the initiative to submit our business and our employees to a background check performed by Google. Within this background check, Google checked our business licenses, insurance, online reviews, and more.  What does this mean for you? It means Google trusts our business and is willing to bet on us. It also means that in the event that we provide poor service, the client can submit a claim directly to Google for potential reimbursement. Learn more about Google Guarantee here. 
Roofing
Residential roof repair & Replacement
Roofing
Commercial & Multi-home Roof Repair & Replacement
Siding
Siding Repair & New Siding Installation
Gutters & Soffit
Gutter and soffit repair & replacement
Great job and I highly recommend them. They were prompt, professional, and did the job before we thought they could even fit us in. We will definitely use them again if we need them.
I have only good things to say about GenEx as a contractor. From my initial calls with Greg, through to completion of the roof and siding project, he was knowledgeable, responsive and professional. The owners of the company (Paul and David) were on the roof with their crew ensuring the job was done right. I wouldn't hesitate to recommend GenEx for roofing or siding projects.
The company did a great job. They completed the work in a timely manner as promised. I would highly recommend them.
Great people to work with. Accommodated our personal choice of roofing, promptly completed the work and everything was done professionally. I highly recommend these guys.
Why choose us
Experience the difference!
We go the extra mile to ensure that every step of your exterior project is completed correctly the first time.
Gen Ex Construction is the #1 exterior renovation provider in the McHenry, Illinois, area!  Our roofing, siding, and gutter experts have helped homeowners and commercial businesses for over 20 years!  When you choose to work with Gen Ex Construction, you are choosing to work with a business that has:
5 Star Rating on Facebook
5 Star Rating with Guild Quality
McHenry
Fox Lake
Wonder Lake
Round Lake Beach
Grayslake
Lake in the Hills
Wauconda
Cary
Crystal Lake
Algonquin
Huntley
Woodstock
Hartland
Marengo
Alden
Hebron
Richmond
Antioch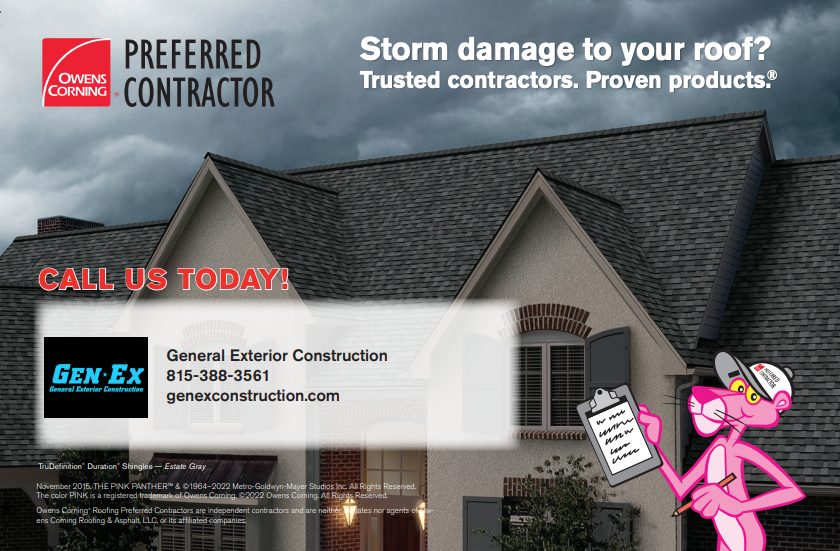 If you have experienced roof damage because of a storm, contact us today to schedule a FREE inspection. General Exterior Construction is an Owen Corning Preferred Contractor, and we will be able to assist to quickly and professionally. 
Address
3710 W Elm St, Unit C McHenry, IL 60050