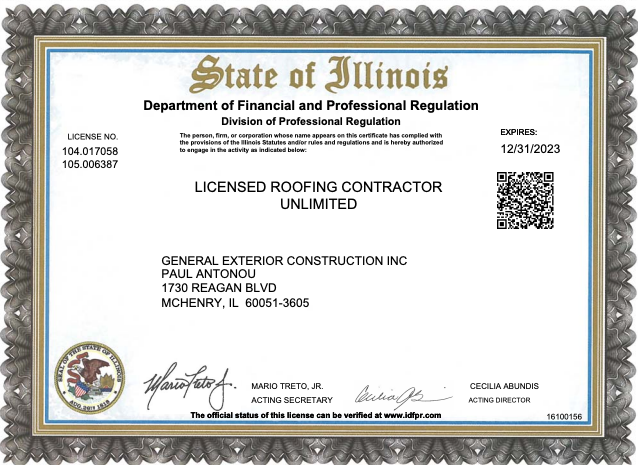 Our Company
Top Quality Renovation Services Since 2004
Gen-Ex was established as a fully licensed and insured business in 2004 by Paul Antonou and David Johnson. Paul and David have been long-time friends, and together they have worked on countless roofs, gained licensure together, and built a locally owned business on hard work and dedication.
Together they have built this company from the ground up, establishing strict guidelines to stay updated on safety and industry standards. Safety precautions we follow include and are not limited to:
1. Keeping the job site clean at all times.
2. Protecting your landscaping with custom tarps and tables.
3. Taking before and after pictures of your property to ensure any pre-existing damages are documented, to protect the homeowner and Gen-Ex.
4. Creating and following a custom checklist for each and every job along with a final walkthrough to ensure every job is complete from start to finish. Also, answering any questions/concerns the homeowner may have.
5. We follow all appointed safety guidelines to protect the homeowner and Gen-Ex from liability
Gen-Ex goes out of the way to please our customers, and their satisfaction is of the utmost importance to us. That is why we offer a one hundred percent customer satisfaction guarantee and offer a twenty-four-hour emergency hotline. Gen-Ex also provides customers with a guarantee covering any labor errors.
Our Commitment To You
The Gen-Ex Guarantee
HOW LONG ARE YOU COVERED: For a period of ten years, Gen-Ex will repair any leaks that may occur in your roof subject to the following limitations, exclusions, provisions, and conditions: the entire period of this limited labor warranty is for ten years and shall not be extended in the event service is performed.
•Gen-Ex IS responsible for any interior, exterior, or structural damage of any nature, including damage to any personal items that is caused by any leak that may develop due to labor error.
•Gen-Ex IS NOT responsible for leaks caused by the failure of any materials, equipment, or assemblies that Gen-Ex utilized in performing the roof work. These items are subject to manufacturers or processors' guarantees or warranties.
•Gen-Ex IS NOT responsible for leaks caused by standing water, or for any structural work that needs to be done to correct standing water problems.
•Gen-Ex IS NOT responsible for leaks caused by purchaser, consumer, his agents or associates, vandalism, work done by other contractors ( licensed or unlicensed), or acts of God, such as hurricanes, wind, and hail storms.
•Gen-Ex IS NOT responsible for any leaks caused by accumulated debris on the roof or storm damage. Debris removal is part of normal roof maintenance and is the responsibility of the homeowner.
•Gen-Ex IS NOT responsible for leaks in gutter systems, internal rain assemblies, skylight tops, stone chimneys, or roof areas under solar systems unless specifically warranted in the roofing contract.
•Gen-Ex IS NOT responsible for foot traffic on your roof or damage caused by objects (such as tree branches) falling on your roof.
•Gen-Ex IS NOT responsible for the discoloration caused by algae, fungi, lichens, or cyanobacteria.
•Gen-Ex IS NOT responsible for settlement of the structure of your home or buckling or cracking of the deck over which your shingles are installed.
•Gen-Ex IS NOT responsible for damage to the shingles caused by alterations made after completion of the application, structural changes, equipment installation, painting, or the application of cleaning solutions, coatings, or other modifications.
•Gen-Ex IS NOT responsible for damage from the hanging of holiday lights and/or decorations that create penetrations to the application.
Address
3710 W Elm St, Unit C McHenry, IL 60050