Commercial Roofing Crystal Lake
Protecting your business starts with protecting its roof. Your roof is what protects your business from everything and needs to be taken care of. If your commercial roof starts leaking, it can ruin things inside the building such as inventory or cause unhappy customers. If the roof is not fixed quickly then it can lead to bigger problems in the future. If you have any issues with your roof, call a local commercial roofing contractor in Crystal Lake right away. At Gen Ex Construction we offer commercial roofing repair to fix your issues quickly. Our team of experts work hard to get everything repaired efficiently. You can trust us with all of your roofing needs today!
Free Inspection

A+ BBB Rating

Honest Pricing
Commercial Roofing Installation Crystal Lake
Has weather been damaging or wearing down your commercial roof? If so, it might need a roof replacement.
 Before you choose to get a roofing installation, contact the experts at Gen Ex Construction, we offer free roofing inspections. We can see what is going on with your roof and determine if it will need to be replaced or not. If you need a roof installation we can go through all the different types of roofs you can choose from. Doing research and deciding a roof is very important because it is a big purchase. Our team can answer any questions that you have and show you the best and most durable roofs for your Crystal Lake business. You can trust us to provide a quick, efficient and mess free work site throughout the roofing installation process.
Commercial Roofing Repairs Crystal Lake
Keep up with all of your businesses roofing repairs! Fixing the small problems right away will prevent bigger ones from happening. Storms in Crystal Lake can cause damage to roofs because of their heavy winds and impact. Sometimes it is hard to determine if your commercial roof needs repairs after a big storm. Sometimes it is hard to see any damages right away or you might not know what to look for. At Gen Ex Construction we have free commercial roofing inspections. You can rely on us to inspect your roof and help you determine what repairs you will need. It's important to watch out for the warning signs that your roof needs repairs.
Dipping Roof- A dipping roof means that the roof is no longer sturdy and needs to be replaced right away. A dipping roof means that the rafters that hold the roof might be broken or damaged from water.

Leaks- Leaks coming from your roof is an easy indicator that your roof needs repair. More subtle signs are water marks on your ceiling, mold or insects.

Higher Utility Bills- If your energy bills are starting to increase it could be because of roofing damages. The damages could have been caused by weather or old age. If your roof is damaged and creating less insulation in your business, it needs to be repaired.

Gaps in Seaming- Seaming in your roof is important and protects your commercial roof from rainfall. If there are gaps in the seaming of your commercial roof, then the edges of your roof will become damaged.

Clogged Gutter- If your gutters are clogged by leaves, dirt and debris the rainfall is not able to drain out like it should. If the water can not drain then it causes the water to seep into materials where it shouldn't and cause damages to your roof.
Emergency Roofing Services Crystal Lake
Gen Ex Construction has been repairing and installing commercial roofs in Crystal Lake for over 20 years. We are the number one commercial roofing company you can always depend on. If you have a roofing emergency, you can contact our emergency service number. Our professionals are always ready to help whenever you need it. Our professionals are highly trained and certified. The next time you are struggling with storm damage in Crystal Lake, Gen Ex can help! We work with all major insurance companies to provide the best service possible.
Don't wait for your roof's damage to become a huge problem, call our experts at Gen Ex Construction today – We got you covered!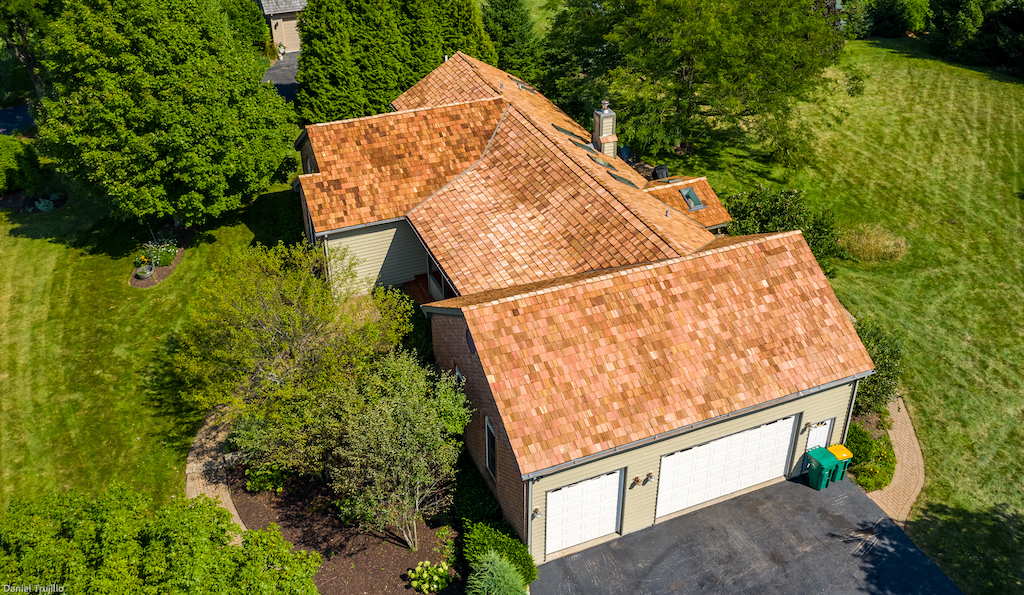 Exterior Renovation Experts